Boston Globe: 'Rockefeller' Lawyers Suggest New Suspect
by Maria Cramer
ALHAMBRA, Calif. – At first, Ruth "Didi" Sohus believed that everything was OK.
Her 27-year-old son, John Sohus, and his wife, Linda, were not missing, she told police. They had left the family home in San Marino for Paris, on a top-secret mission, she told investigators, citing a secret source.
"She was not going to give me any further information," Thomas LeVeque, then a San Marino patrolman, testified in Alhambra Superior Court yesterday. "She said it would jeopardize or endanger the couple."
She died in 1988, six years before her son's remains were discovered by workers digging a pool in the backyard of her former home.
During a hearing yesterday for the man accused of bludgeoning her son to death, witnesses testified to Didi Sohus's growing concern that something was wrong, while an attorney for the defendant suggested that someone else might be responsible for the crime.
In the months following the couple's disappearance, bill collectors began calling Didi Sohus. So did friends of the couple, anxious that they had not heard from them.
"She was starting to get very nervous and scared that something bad had happened to John and Linda," Lili Hadsell, another former San Marino police officer, testified.
Christopher Chichester, her former tenant who had told Didi Sohus he would act as the couple's contact back home, had disappeared, Hadsell said.
Her former tenant, a 50-year-old German national whose real name is Christian Karl Gerhartsreiter, has been charged with murder in the slaying of John Sohus. Linda Sohus was never found, but police believe she is also dead.
Gerhartsreiter's Boston-based lawyers, Jeffrey Denner and Brad Bailey, have said he is innocent.
For years after he left California, Gerhartsreiter masqueraded as Clark Rockefeller, a fraud that was uncovered when he was prosecuted for the parental kidnapping of his daughter in Boston in 2008.
While Boston police and the FBI investigated the kidnapping, they learned Gerhartsreiter was wanted for questioning in the disappearance.
Yesterday marked the second day of a preliminary hearing that will help Judge Jared Moses decide whether the first-degree murder case should go to trial.
In the months that followed the couple's disappearance, Didi Sohus became a recluse, testified Marianne Kent, 81, whose son grew up with John Sohus.
After John disappeared, Didi Sohus often called Kent late at night, sometimes drunk.
"She didn't have that spark to live," Kent testified. "She just couldn't understand why she didn't hear from him."
Linda Sohus's mother received a postcard from Paris, purportedly from Linda, but Hadsell testified yesterday that it did not match the missing woman's handwriting.
One of Gerhartsreiter's old friends in San Marino – Judge William Stewart, who was then a private attorney – testified that he once lent Gerhartsreiter an electric chainsaw.
Upon questioning, Stewart could not recall if Gerhartsreiter had kept it for six months or for two to three months, as Stewart initially told police during a 2008 interview.
Linda and John Sohus were last seen alive in February 1985. John Sohus's remains were found cut up, wrapped in plastic, and stuffed in bags and a fiberglass box.
Witnesses had a difficult time recalling details in the case. At one point, Kent was asked whether she could see the guesthouse tenant in the courtroom. Instead of pointing to Gerhartsreiter, she pointed to a news cameraman.
Bailey introduced the possibility of another suspect: a real estate agent who helped Didi Sohus sell her house.
During testimony by Sohus's grandson, Harry Sherwood, Bailey asked about the agent, a woman who was often at Didi Sohus's home, driving her around and fetching her groceries.
"Isn't it true you became concerned about this woman and why she was so involved with your grandmother?" Bailey asked.
If you have been accused of a crime and you need a lawyer to represent you please contact Brad Bailey at 781-589-2828
About the author: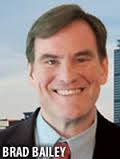 Brad Bailey was a felony prosecutor in Manhattan (NY) and an Assistant District Attorney in Middlesex County (MA), where he prosecuted murders, sex crimes and serious narcotics trafficking cases. He went on to prosecute federal drug crimes and the mafia/organized crime as an Assistant U.S. Attorney for the U.S. Attorney's Office in Boston. A six time Super Lawyer and Top 100 Trial Attorney, he is AV rated by Martindale and rated "Superb" by Avvo. Brad has been a member of the defense bar since 1999, and uses his vast experience on both sides of the law to defend clients accused of all manner of serious criminal offenses in both state and federal courts throughout, Massachusetts, New York, the greater New England Region, and elsewhere in the United States. He is widely regarded as one of Top Federal Criminal Defense Lawyers in Massachusetts.